Tamarindo Costa Rica Fishing
Tamarindo is one of the best areas for rapid access to some of Guanacaste's best fishing grounds. There is a deep-sea shelf nearby, just 25-30 boat running to get blue water, this special condition allows for both some inshore and deep-sea fishing on the same day. If you're lucky you can go for some billfish such as Marlin or Sailfish and maybe even catch a Roosterfish on your way home.

Our captains and mates are local people with a large experience fishing these waters. We have been fishing for many years; firstly as commercial fishermen and later as sport fishermen due to the arrival of much tourism to our region.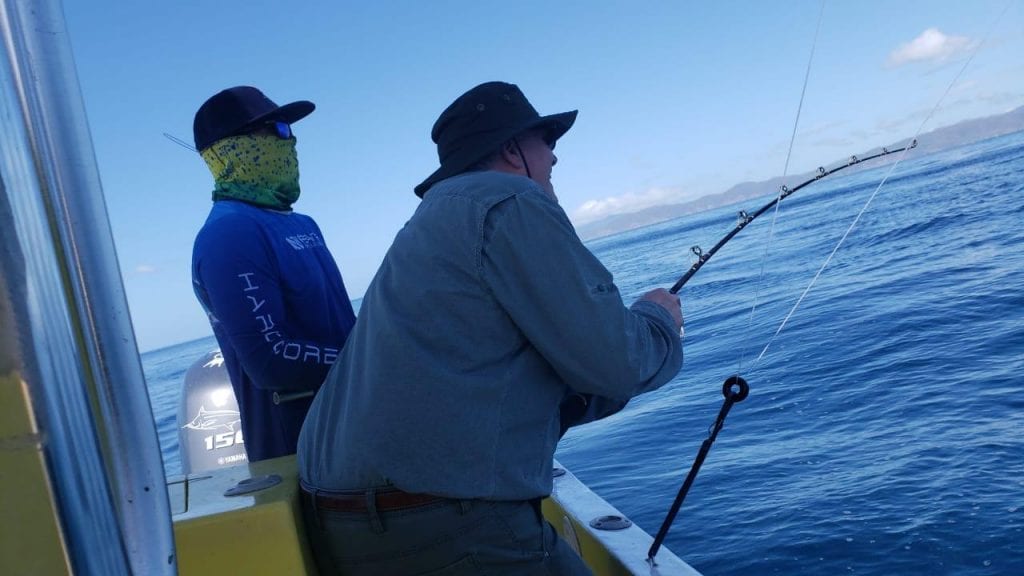 Fishing Charters
Playa Tamarindo, along with Playa Grande and Playa Ventanas, makes up Bahía Tamarindo. This beautiful beach features rocky areas and an island (Capitán) at its southern end. Its luxuriant greenery includes pink trumpet trees, tamarinds, and coconut palms. Excellent and varied services are offered, allowing visitors to enjoy the beach by day and the nightlife after sunset. Tamarindo is ideal for relaxing, walking, horseback riding and one of the most popular sport-fishing are in Guanacaste, diving tours, as well as visiting the mangrove swamp and observing nesting sea turtles.

Tamarindo town itself is quite colorful with plenty of local Tico flavor. Here you can find several bakeries, an outdoor vegetable market, an art gallery, pottery stores, a beauty spa, and more than 40 restaurants, bars, and discos with cuisines to suit every palette. Easily accessible by bus, the best way to get to Tamarindo is to fly into the Liberia International Airport or if you are already in San Jose take the domestic flight to Tamarindo Domestic Airport which is just outside of town.

For anglers staying at resorts such as :
– Paradisus Playa Conchal
– Tamarindo Diria
– JW Marriot Tamarindo
– Barcelo Playa Langosta
– Flamingo Beach
Inshore Fishing in Tamarindo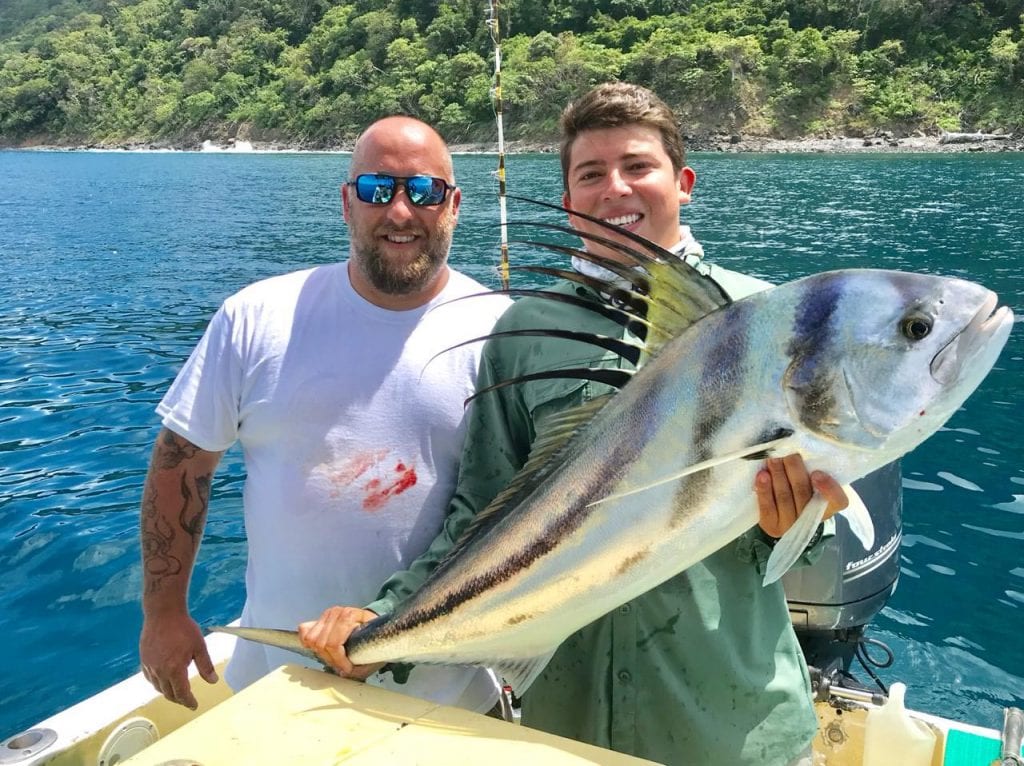 This fabulous specie is caught around the year, although there are more caught in the Gulf of Papagayo (Bat islands) area from November through March; but this is a territorial species and is abundant in the region, so caught depend on the water conditions no matter time of the year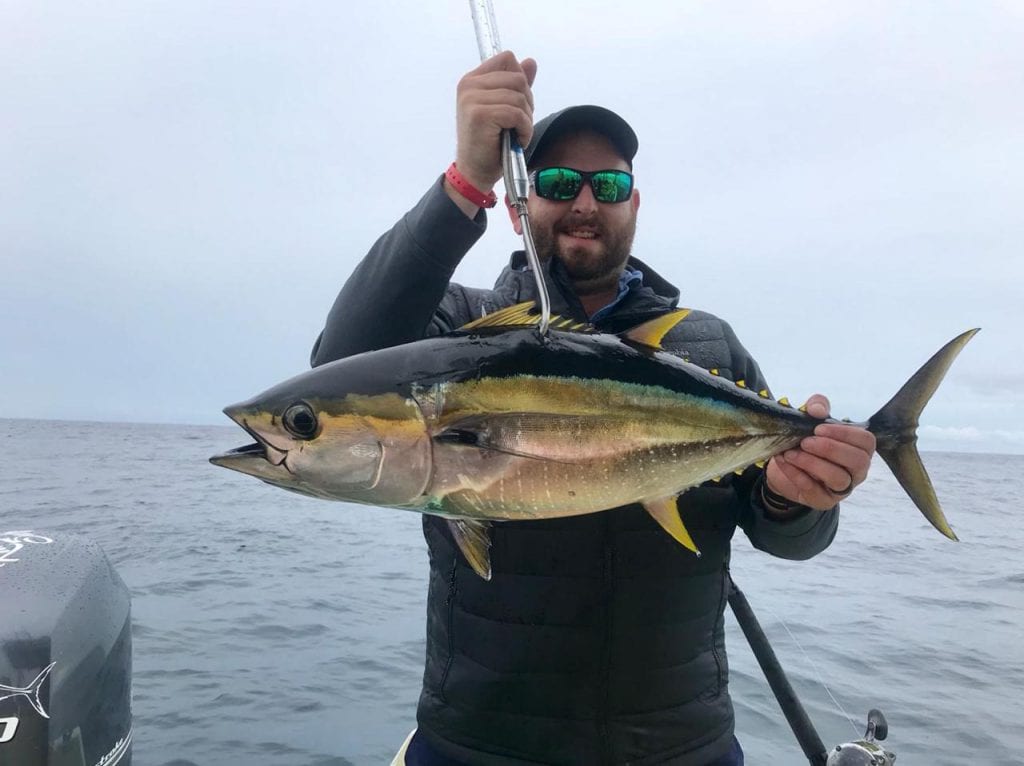 Tuna:
Peak months are probably early August through October; you can expect to catch a tuna when all else fails, anytime of the year captains pray for small tuna as they use them as live bait for bill fishing, roosterfish, or bottom fishing. The yellowfin and some Bigeye tuna are often found well inside the Catalina Islands, in the Gulf of Papagayo, 30 minutes or less running time from the beach.
Offshore Fishing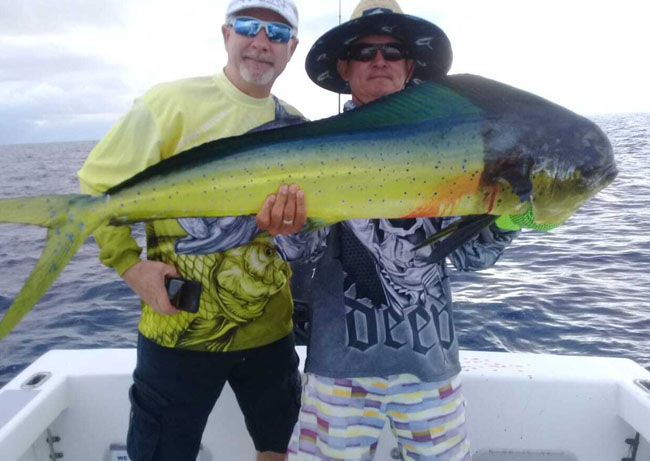 This appreciated, colorful, rich, and fighter fish is most abundant from late May through early October when the seasonal rains flood the rivers, carrying out debris that forms trash lines close inshore that they like to lie under. Troll past a floating log and you'll likely hook a Dorado.
Tamarindo Fishing Seasons
Tamarindo beach, in the northwestern corner of Costa Rica, has no specific season, however, species are more prevalent during some periods, quantities caught of every one species depend on the season. Although we have excellent fishing year 'round, our peak seasons are April-August and November-March.

From March thru August there is a high pick fishing season in this area, as fishing takes place in the nearby Catalina and Bat islands or in front of Tamarindo beach, often only a ten minutes boat running in search of Mahi–Mahi(Dorado), wahoo, yellowfin tuna, and other species, or bottom fishing for amberjack, red snapper. On a full day fishing in Tamarindo, we move offshore in search of large Mahi, tuna, sailfish, and marlin.

From December thru April is the "high season" tourist-wise, this is also the windy season. Our charter for full-day run around 60-70 minutes to reach the south to find calm waters that are protected from the wind. This area to the south hosts Mahi–Mahi, wahoo, tuna, sailfish, and blue, black, and striped marlin during this time of year. There is no particular "season" as regards what species are available